Living in more beautiful surroundings
Hidalgo Appartements & Suites are elegant, and subtle. They are all fully furnished and feature top quality furniture. The flats are spacious, cosy and functional, as living should be a practical matter, too. The large, bright suites starting at 55 m² offer lots of space for you to plan your holiday as you want it. They all have a balcony or terrace for sunny days and are particularly bright thanks to their large glass windows.
Start your day with the breakfast in our Restaurant or book your "Gourmet Package" based on availability to experience a stay in half board in the Hidalgo Grill Restaurant.
For individualists who value comfort
Hidalgo Suites are not 'at the heart of' or 'in the centre' of anywhere. We are located removed from the hustle and bustle, with ideal travel connections and therefore ideal for those wishing to discover as much of South Tyrol as possible during their holiday. Lana (2 km), Meran (Merano (5 km), Bozen (Bolzano) (19 km) or the surrounding valleys may be reached quickly. A holiday tailored to your needs! On the subject of needs – it goes without saying that Hidalgo Suites provide total independence on holiday. After a tasty, vital breakfast with our varied buffet in Hidalgo Restaurant you will get your day off to a good start. Furthermore, the restaurant and Hidalgo Beef Tasting offer a quality dining experience, both at midday and in the evening, 365 days a year. Or choose to book our "Gourmet Package" based on availability to experience a stay in half board in the Hidalgo Grill Restaurant.
The Hidalgo Balance promises relaxing moments of wellbeing with a pool, sauna and relax-zone.
Reasons for taking a Hidalgo Suite:
easy to reach
good travel connections
near Lana, Meran, Bozen, ...
comfortably furnished
bright and spacious
book our half board Gourmet Package in our Mediterranean Grill Restaurant on request and based on availability.
large underground garage
large personal storeroom for leisure equipment from bikes, via skis, to golf clubs
personal support and advising
ideal for South Tyrol explorers and business travellers
GOURMET PACKAGE "OUR HALF BOARD"
4 course gourmet menu of your choice
Book your Gourmet Package and upgrade your culinary holiday with us!
Choose your own four courses gourmet menu from our menu at a special price and enjoy your stay in half board with our Grill Restaurant and its 38 years of tradition.
Discover the Gourmet Package menu.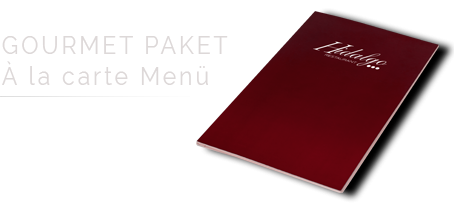 Upon paying an additional charge to the price of your stay, it is possible to try our "restaurant in the restaurant", the Beef Tasting Wagyu Restaurant, with the exquisite Wagyu and Kobe beef.
Please make sure to book your Gourmet Package upon booking your suite-apartment. On special events, such as Christmas, New Year's Eve, St Valentine, Easter, during which the restaurant offers a single menu, we will charge the price of the gourmet menu on request to the price of your stay in half board.
It is only possible to book the Gourmet Package based on availability.
BALANCE MINI SPA
Live the emotion of getting close to your own heartbeat again.
In the new Hidalgo Balance Mini Spa you enjoy yourself according to your own needs by taking time for yourself. Here you can relax: when you swim your lanes in the pool, detoxify in our Finnish sauna, rest in the relaxation room.
Our Hidalgo Balance is a mini spa designed to perfectly round off your stay at the Hidalgo Suites. Another possibility to live your freedom.
Finnish sauna
Finnish sauna made of Hemlock fir. Classic sauna of 90°-95° C and 10-20% humidity.
Infrared cabin
Pleasant warmth that reaches the deep layers, relaxes the muscles.
Relaxing room
Here you can relax after going to the sauna, read something or enjoy yourself after an active day. With tea and fruit angle.
Fitness Area
With Cross-trainer, home-cycle and treadmill
Outdoor pool
Our garden pool invites to enjoy and refresh. On 12 x 5 meters you can refresh yourselves in our Mediterranean garden park. (Until of the end of october)
GARDEN PARK
"If you long for a mind at rest and a heart that cannot harden –
go find a gate that opens wide – into a Secret Garden."
-Unknown-
Kissed by the sun of Val d'Adige, enjoy yourself in the splendid garden park with breathtaking view over the valley. At your complete disposal are comfortable luxurious sun beds and a pool immersed in a Mediterranean garden with mediterranean and exotic plants, amongst which is the "Hidalgo®" rose of a carmine red colour, of our own cultivation (MEItulandi 1979 Teehybride) with its' intense perfume.
GOLF IN SOUTH TYROL
Ideal for golfing enthusiasts
Hidalgo Suites is partner of GOLF IN South Tyrol
The South Tyrol Golf Card allows you to get 20% discount on green fees of all partner clubs in South Tyrol:
Golf Club Lana - 5,5 km
Golf Club Eppan - 17 km
Golf Club Passiria Merano - 24 km
Golf Club Dolomiti Sarnonico - 41 km
Golf Club Carezza - 46 km
Golf Club St- Vigil - 48 km
Golf Club Petersberg - 61 km
Golf Club Pustertal - 102 km
Golf Club Alta Badia - 130 km
Golfing tradition in South Tyrol
The South-Tyrolean's didn't invent the golfing, although we are proud of a long lasting golf tradition. More than 100 years ago there was a meeting at the Karersee because 1886 the Grandhotel Carezza was opened. In 1904 the 18-hole golf course on the foot of the Rosengarten was being opened for guests. Also in Merano you could go to golf already, since the Russian prince Michael publicized the sport in 1891. In 1927 there was built another golf course at the Mendel. At the beginning of the 20th century only the privileged class was visiting the, by then, three golf-courses in South Tyrol. Today they're opened for all motivated golf-players, whatever social class they belong to.
(Source: GOLF IN South Tyrol)
CHARGE YOUR ELECTRIC CAR
Total freedom during your stay at Hidalgo
Enjoy your stay at Hidalgo and charge your car at the charge point (Super Charger 22 kW) in our basement garage.
For more information don't hesitate to ask us!